Video Marketing is a tool successfully used more and more by businesses everyday. One business, in particular, owes a whole lot to that tool and their story is a testament to its success when implemented properly. Here's the story of how one drive in movie theater saved itself from extinction through video marketing.
Film studios will be switching completely to digital next year which means all theaters (indoor and outdoor) were under pressure this year to raise funds in order to buy digital projectors. The theaters that struggled to raise the funds the most were drive in theaters. Many either asked for donations hoping for the best or accepted their fate in the history books. Honda, the car manufacturer, stepped in over the summer and started a contest. They asked people to vote for their favorite drive in theaters and they would award digital projectors to the selected winners. The campaigns entered full swing after the announcement.
The Saco Drive In movie theater, located in Maine, had already been selling themselves to the public before the contest began and finding unique ways to raise funds beyond asking for donations. At the heart of their efforts was video marketing.
The team behind the drive in theater used videos to attempt to reach out to celebrities for help as well as to promote special events at the drive in theater for people to partake in like a comedy show and yard sale. These events were all promoted through web video which helped turn them into big successes.
"Marketing through video was more successful than anything else. We tried blogging, advertising the traditional way, but something about video marketing reaches more people than anything else I've tried. It's how I promote all my businesses," says Ry Russell, the owner of The Saco Drive In.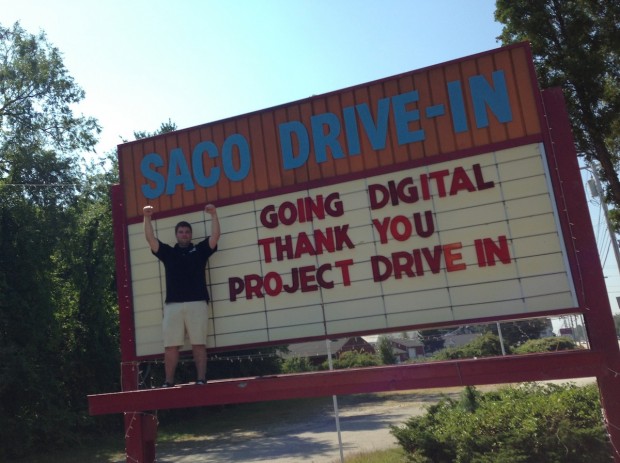 After the Honda contest began, The Saco Drive In team continued to use video marketing to promote their small business to people and to win votes. Russell made a video for the voting website as well as taking part in Honda's promotional video with submissions for the contest.
Video marketing was used to reach Mainers and lovers of movies and it worked to win their votes. The Saco Drive In won the digital projector and was the first theater to be announced by Honda. By using video to promote their business and brand, The Saco Drive In was able to get more people involved, win more supporters and get people excited in a way that other avenues just couldn't do.
And this isn't just for consumer related services. We've seen kinetic typography videos attract attention form CIO's on niche products, non-profit groups gain supporter interest from testimonial videos and iconic American brands ignite their distribution channels across the country. It works.
If you or your business are interested in video marketing then contact us today.